giandujakiss
Fake feminism in Angelina Jolie's "Salt"
The cover story of this year's Entertainment Weekly summer movie preview concerns the behind-the-scenes scoop on the new espionage thriller "Salt," directed by Phillip Noyce and starring Angelina Jolie, Liev Schreiber and Chiwetel Ekiofor. Much of the article is a group pat on the back for the supposedly amazing progressiveness of the fact that Angelina Jolie ended up playing an action hero originally written for a male star like Tom Cruise (who bailed when the script began to too closely resemble a "Mission: Impossible" picture).

But there's a real kicker buried amid Noyce and his colleagues' smugness:


"In the original script, there was a huge sequence where Edwin Salt (the original male protagonist) saves his wife, who's in danger," says Noyce. "And what we found in the new script, it seemed to castrate his character a little. So we had to change the nature of that relationship." In the end, Salt's husband, played by German actor August Diehl ('Inglourious Basterds'), was made tough enough that he didn't need saving, thank you much."
As one person put it, RRRRRAAAAAGGGGGGGEEEEE.
In related news, I've been rewatching
Wonder Woman
, and absolutely reveling at how
awful
wonderful
awful
wonderful it is.
I don't know if anyone but me has rewatched the series since childhood, but as you may recall, the show ran three seasons. The first season took place during World War II, like the original comics, and Wonder Woman helped the Americans fight the Nazis. Her alter ego was Diana Prince, Yeoman and secretary to intelligence officer Major Steve Trevor.
When the show moved to CBS from ABC, I guess they decided the WWII format was too expensive or restrictive or something, because the second and third seasons take place in modern times (i.e., the 70s). Which they could do because Wonder Woman lives forever and is eternally young. In the 70s, Diana Prince works alongside Steve Trevor, Jr (played, as in the first season, by Lyle Waggoner - a man whose mere
existence
is endlessly funny) at a CIA-like organization. And amazingly, in the second and third seasons, Wonder Woman's costume became
even skimpier
, which you would not have thought possible. To be fair, though, it also looked a lot less cheap.
The show's flaws are many and varied. For example, in the first season, the direction is so appalling that it rivals the first season of Highlander - no, I can see you doubting, but it's
true
. But mainly, the badness comes from the show's inability to decide just how serious or camp it wanted to be. The more serious it tried it to be, the more painful it is to watch, because that's when the gulf between the outlandish premise and the tone of the show becomes unbearable. For that reason, despite the lousy directing, the first season is probably the best one - that's when the camp is at its zenith. Also, the first season features Debra Winger as Wonder Girl in three episodes (a two-parter and a standalone).
All of which brings me back to the blurb about "Salt." Because in the three seasons of Wonder Woman, a show that aired more than 30 years ago, she
frequently
saved Steve Trevor's ass - even
carried him
on occasion (with the obvious aid of hidden wires, so you can add that to the show's general hilarity). And in those three seasons, she was saved by a man only once, in an episode that I think was a trial balloon for a new series, because it introduced a male character with special powers (and yes, that single save still annoys me to this day).
I'll also mention that I take great delight in cataloging Wonder Woman's specialized outfits. There's the bathing suit she wears for every day saving people, the miniskirt-and-cape version she wears for formal diplomatic occasions, the spandex diving suit that was literally inserted to advertise spandex (I love that she puts on
more
clothes to go swimming), the spandex motorcycle outfit which is exactly the same except for the helmet, and - I shit you not - the casual ranching outfit, consisting of a red blouse and white pants, that she wears for a prolonged stay at a ranch.
In sum, without this: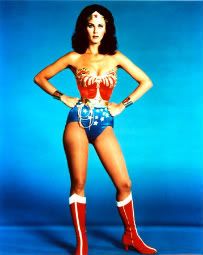 We could never have had this: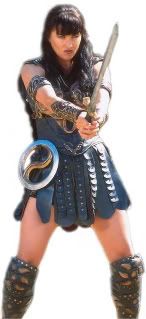 I do love this show.